Where metal, stone and glass go hand in hand
Just a few minutes from Sóller's village center, you can find Helena Nieto working concentrated in her home-studio. The art historian is a professional jeweler and mosaicist and combines skilled these two very different artistic disciplines in her work. Surrounded by her two kids and the beautiful Tramuntana mountains, she started to customize jewelry inspired by motherhood and nature. Under the name mom.en.to Helena offers her own jewelry collections as well as personalizes jewelry for mothers and those who want to become one.
In our interview we talked about her artistic journey, her passion for Italy and mosaic as well as her relocation from the Capital to Mallorca.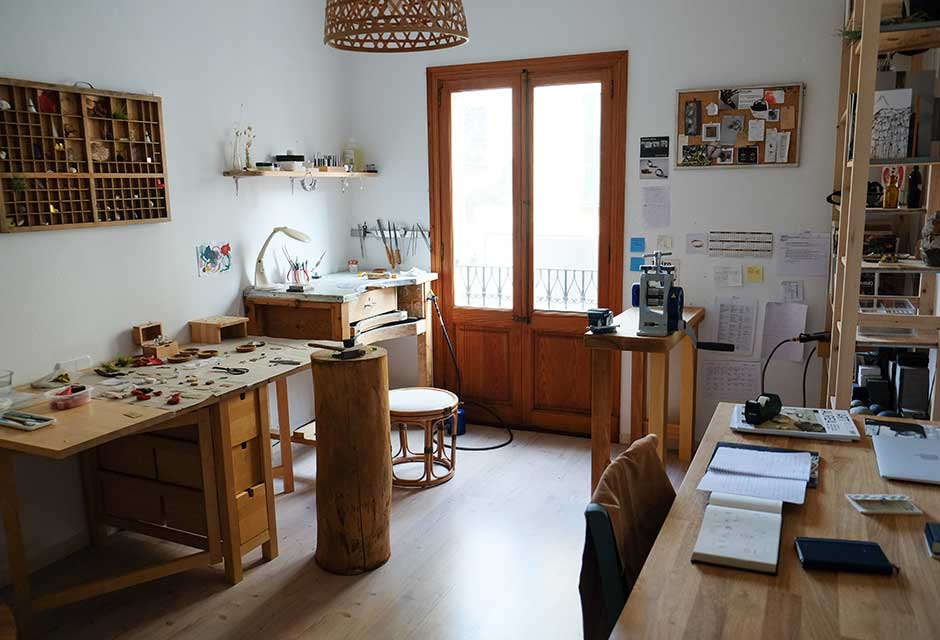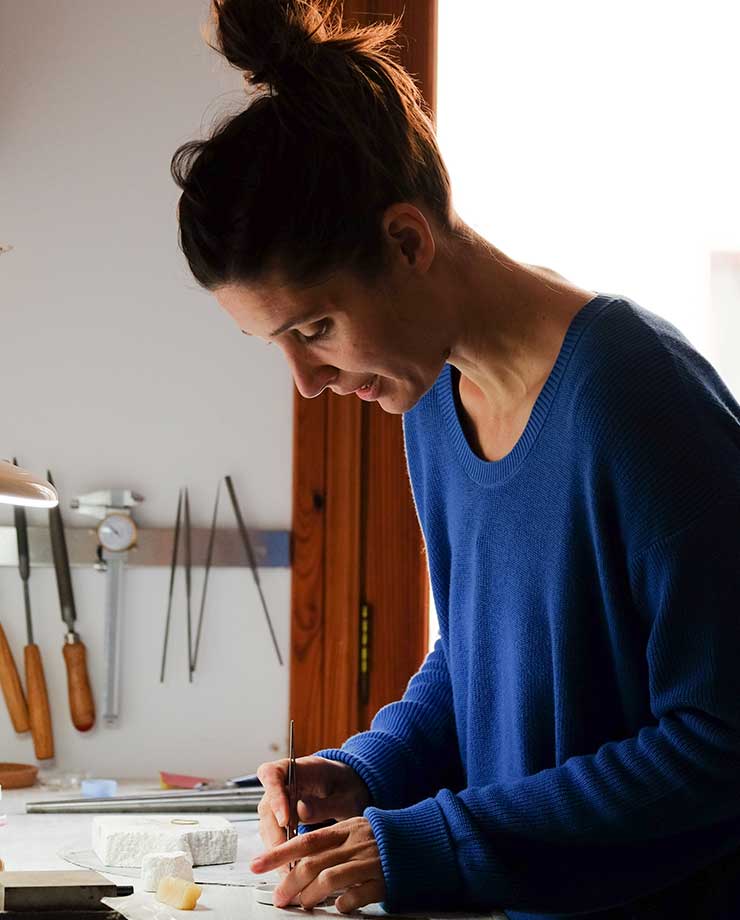 Hello Helena! Thank you for your time. Could you please introduce yourself a bit? And tell us about your creative journey?
From a very young age I have been interested in art, culture, aesthetics…
I studied Art History at the Complutense University of Madrid, where I acquired theoretical artistic knowledge, but I felt that I wanted to use my hands and create. During these years I enjoyed an Erasmus scholarship in Udine, Italy, where I discovered the Scuola Mosaicisti del Friuli; a professional mosaic art school, unique in the world. When I visited it, I was fascinated by the art of mosaic, the materials used, the tools… and I decided to enter it to be a mosaicist. The vital experience was very enriching, it has been four years of great learning. Since then Italy is my second home. I returned to Madrid where I worked on medium and large format mosaic works and begun to create mosaic jewelry in a self-taught way. After a while, I decided to study "Artistic Jewelry" at the School of Arts and Crafts Arte 3 in Madrid to perfect my technique and rigorously learn about the jewelry technique.
Since then I have combined both artistic disciplines in my work.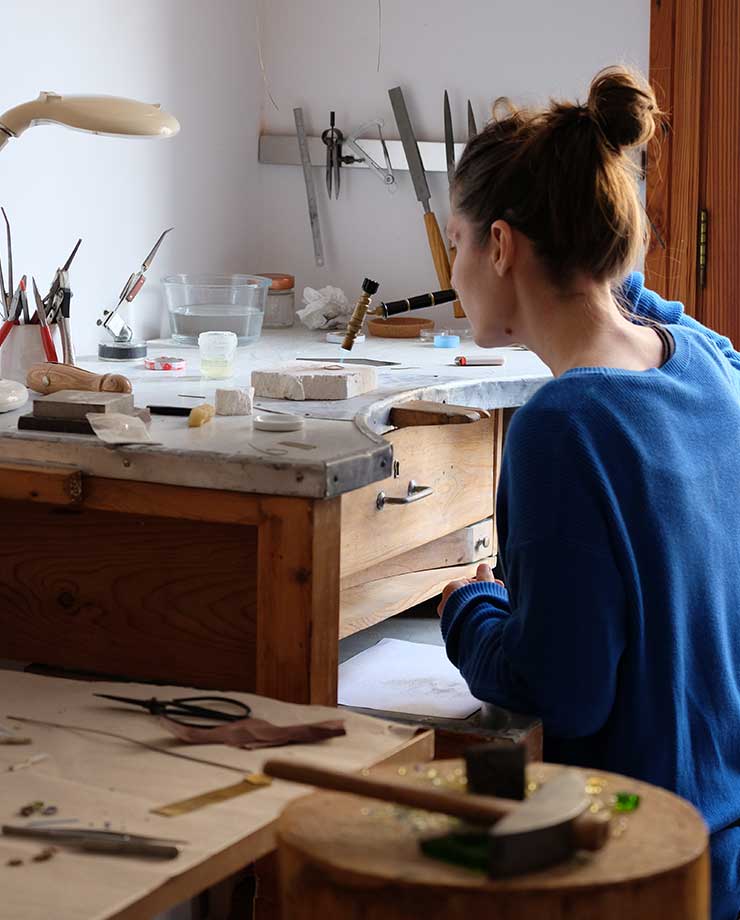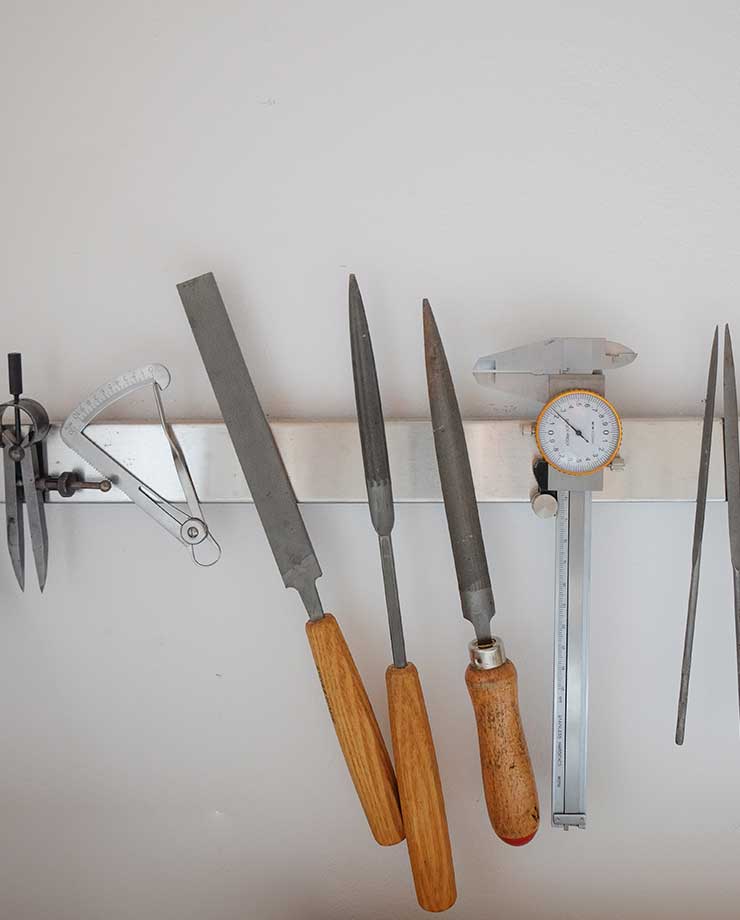 What makes your artistic field (mosaic and jewelry) so special to you?
It makes me able to combine two very different artistic disciplines. I play with disparate materials such as metal, stone, glass and my challenge is to find and create beauty by uniting them.
Is there an art work/ a project/ an exhibition/ a collaboration you're particularly proud of? Why?
A few months ago I had the opportunity to meet the Italian jeweler Giovanni Corvaja. We worked together in his workshop investigating the possibilities and limits of gold and glass. Working with him has been transformative and has led to the planning of new artistic projects that I am currently working on.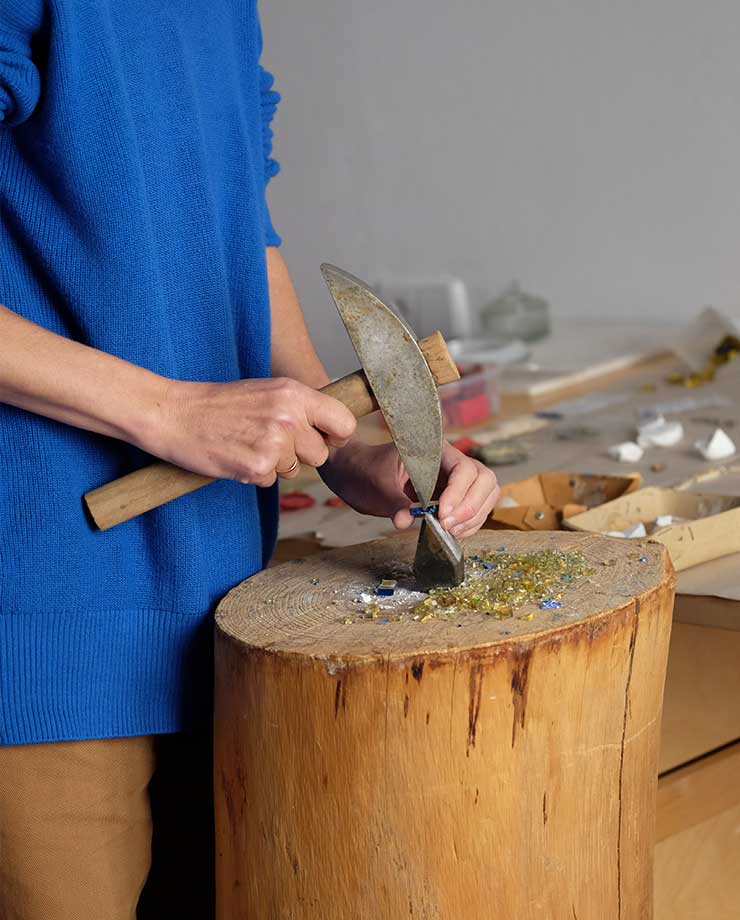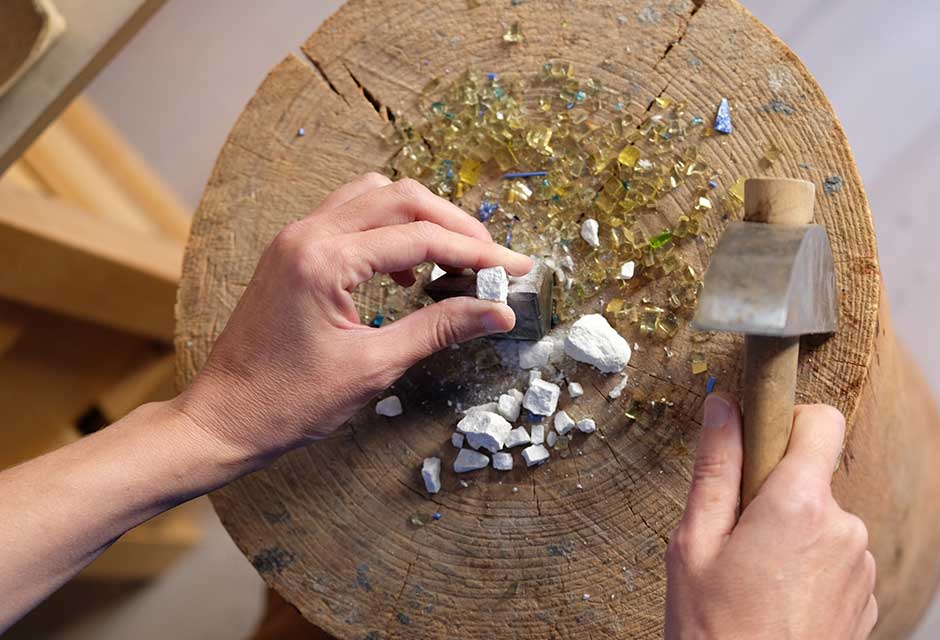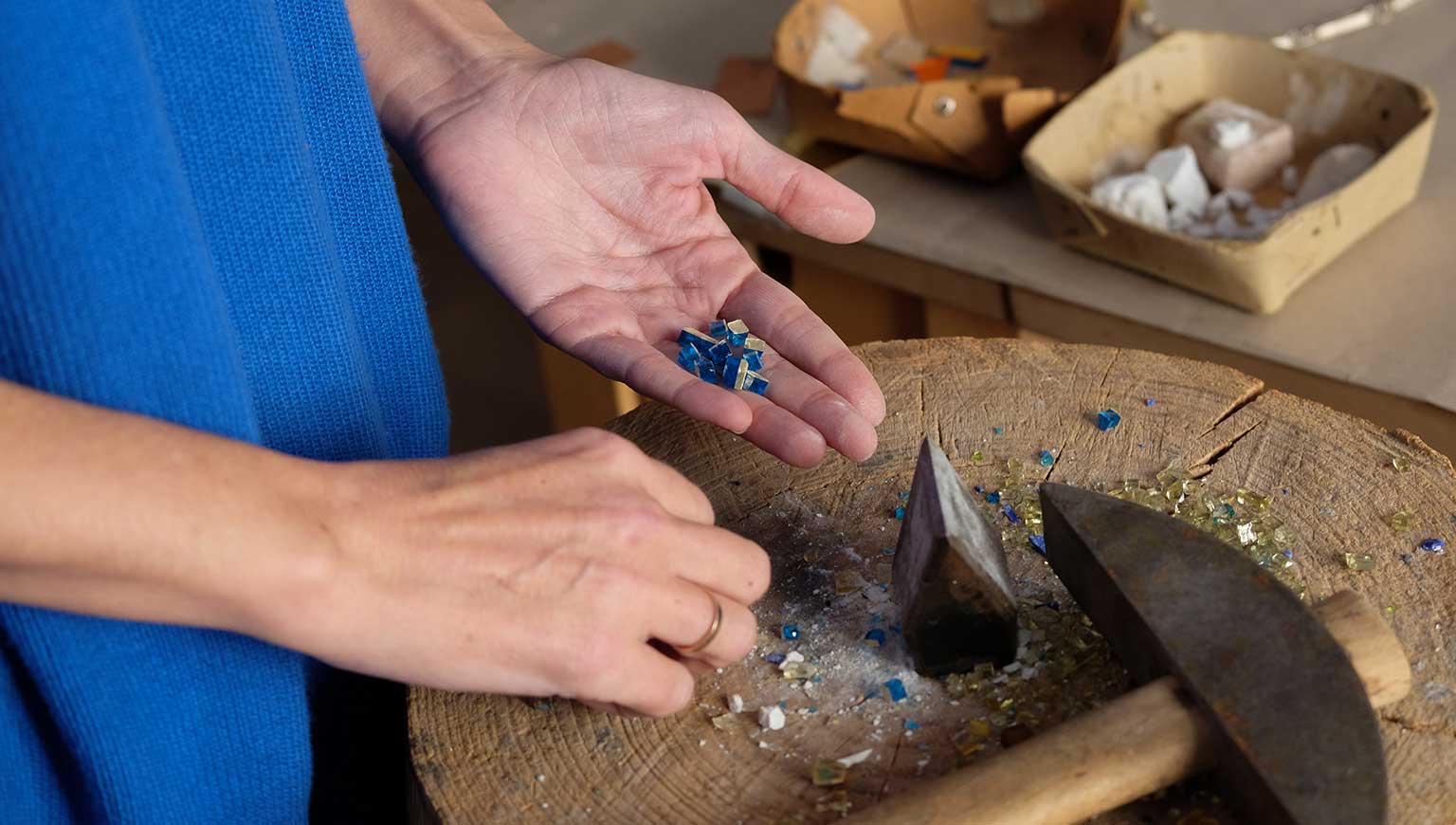 You have a very beautiful studio! What do you think makes this place so unique?
Thanks a lot!! I guess my studio is an extension of myself. It is the place where I work, the space where I find silence and calm to create. In it I surround myself with what inspires me such as materials from different origins, drawings, photos, books. For me it is fundamental to have this type of atmosphere, pleasant and comfortable, to work.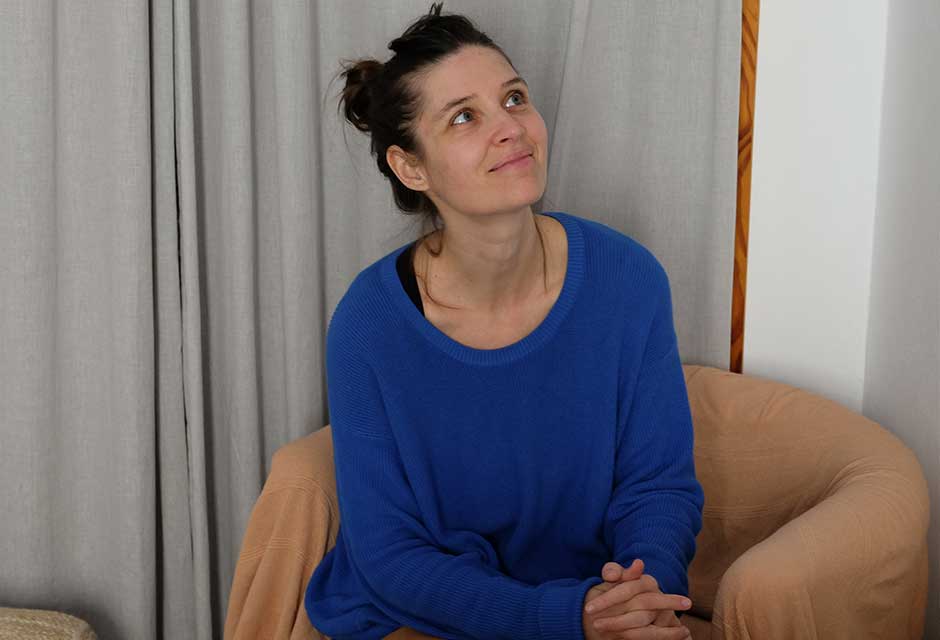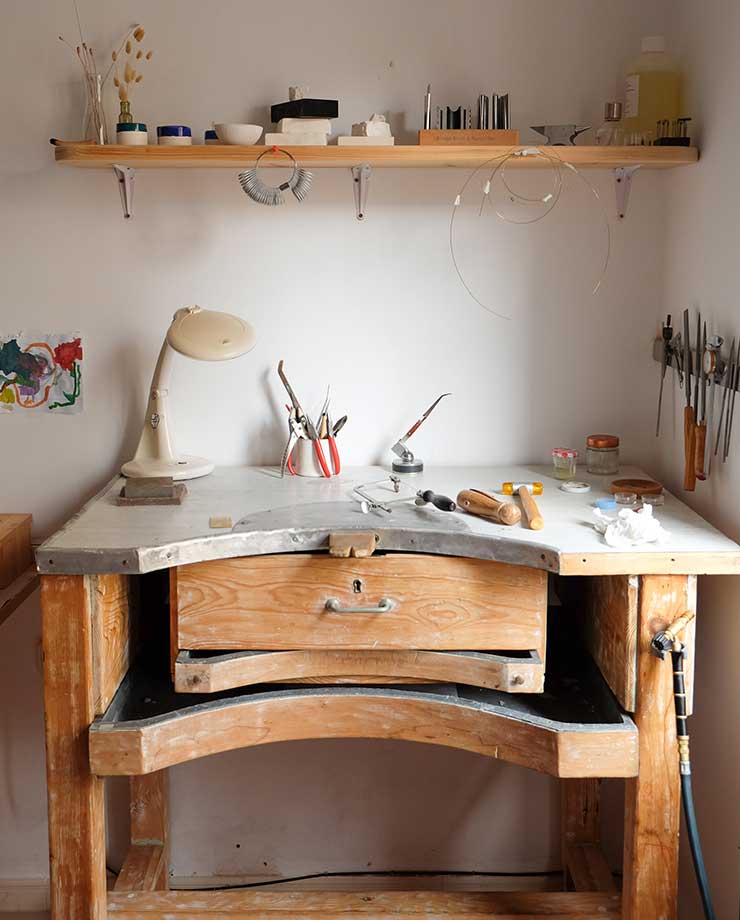 What should people do after visiting one of your classes? What are the best things to do nearby the studio?
My home-workshop is in Sóller, a beautiful town in the Serra de Tramuntana. When we finish the workshop I recommend different plans: you can get to know the town center, walk around and eat in one of its restaurants. You can also take an old tram that connects Sóller with the port and spend the afternoon by the sea or if you like to go trekking, there are different routes through the mountains that are very beautiful.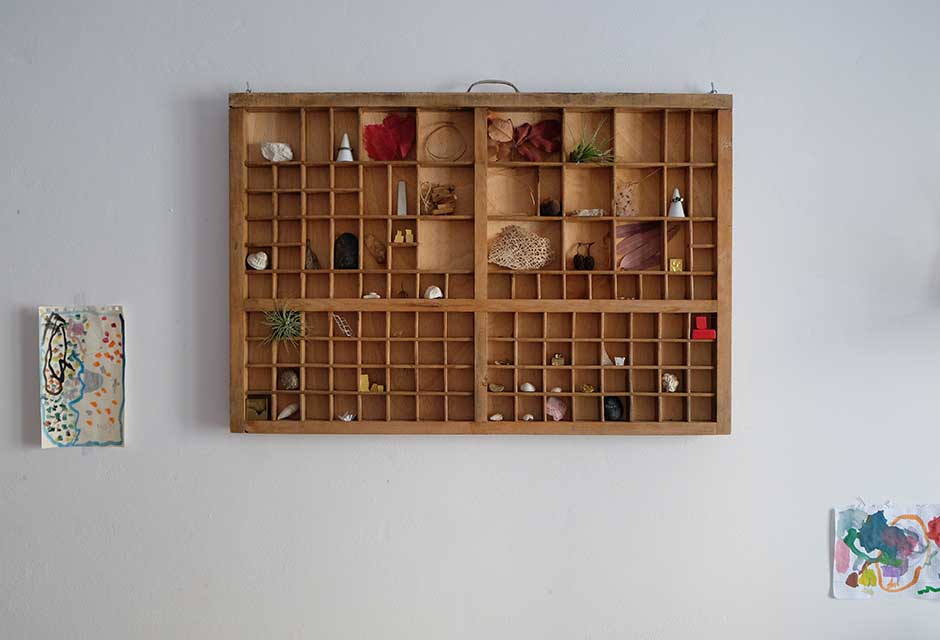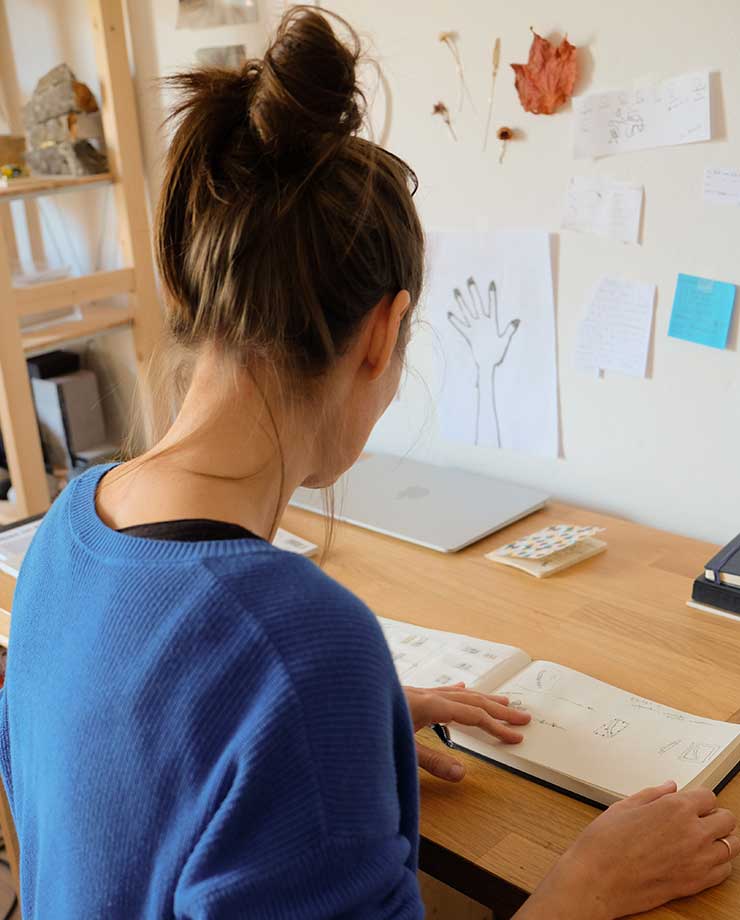 Is Mallorca a good place for creative people?
I think the island is a very inspiring place for any creative person. If you are looking for calm, silence and connection with nature to create, you will find it here.
What's coming next? Where do you want to go artistically?
In this period I continue to experiment with gold, glass and raw precious and semi-precious stones. I am also working on a collaborative project with the jeweler Giovanni Corvaja.
Helena, thanks a lot for this great interview!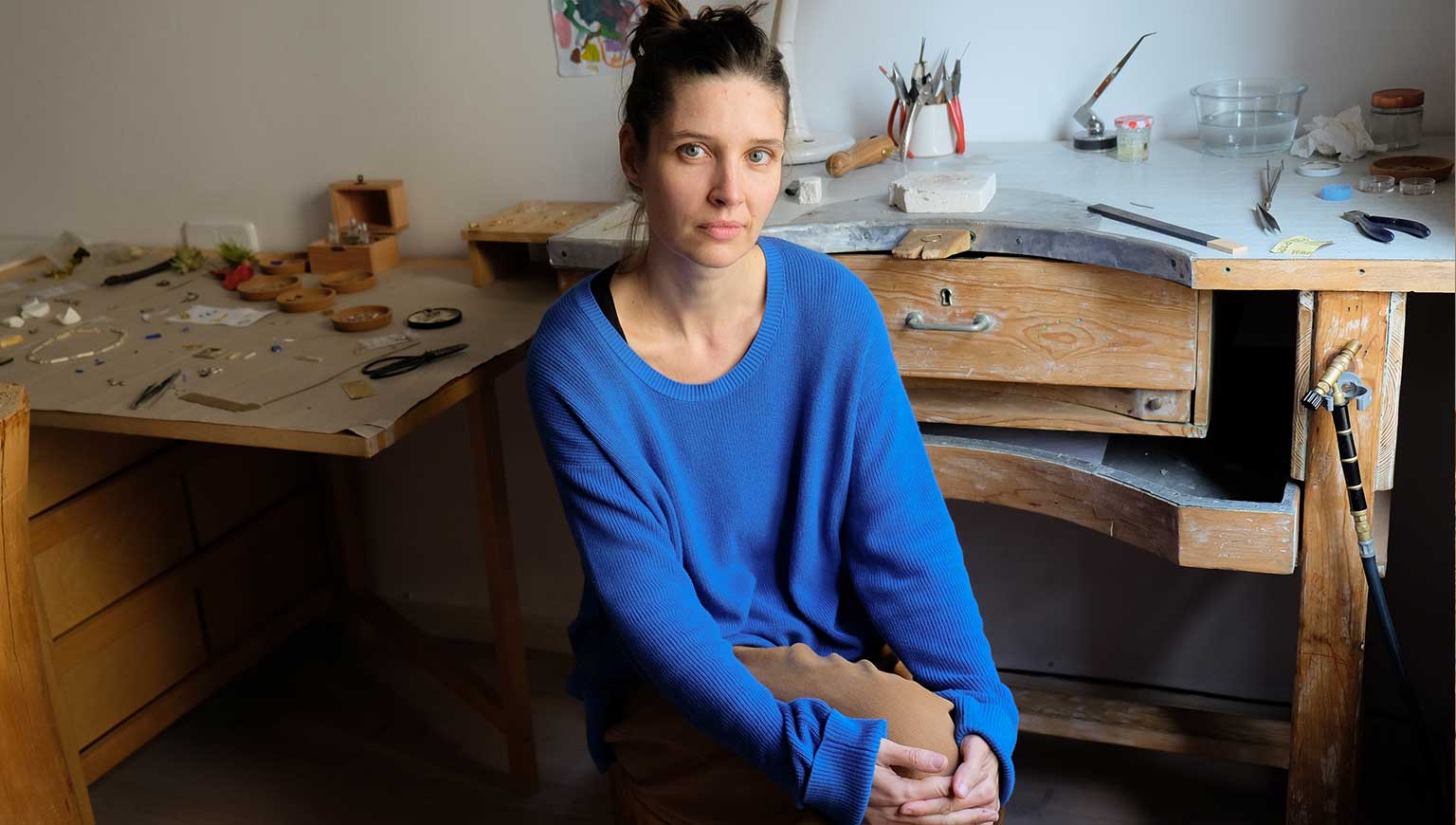 All Classes by Helena Nieto
Jewelry Make your own Jewelry: Expanded Class Helena Nieto

Helena opens the doors of her home-studio in Sóller to share her experience gained in recent years with metal applied to "Contemporary Jewelry". This unique capsule workshop format for dada-days focuses on people who want to delve into the subject jewelry.

Sóller, 169€

English, Italian, Spanish

Learn More

Jewelry Jewelry-Making: Basic Class Helena Nieto

This unique capsule workshop format for dada-days focuses on people who want to learn more about jewelry in a short 2-hour class. Helena opens the doors of her home-studio in Sóller to share her experience gained in recent years with metal applied to "Contemporary Jewelry".

Sóller, 91€

English, Italian, Spanish

Learn More